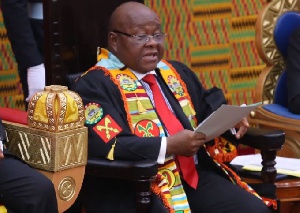 The University of Ghana researchers whose research work has proven that majority of MPs are likely to lose their jobs in the next elections have defended their work against criticism from the Speaker of the House Professor Mike Ocquaye.
According to the speaker, the research has the tendency to trigger attacks on members of parliament.

"Let's be careful not to delight in MP bashing…I want to say authoritatively that these honourable members who have been in this House this term, have passed more bills than any other parliament in the history of this country, it is a verifiable fact," the speaker said.

Reacting to the speaker's comment, a senior lecturer and one of the researchers Dr. Isaac Owusu Mensah told Starr News the speaker's position on their work is not supported by law Dr. Isaac Owusu Mensah

"There are certain levels I don't agree with the speaker, it is not possible for anyone to say that if you want to conduct a research into a certain phenomenon you should take all the interest of the person into consideration.

"There is no law in Ghana that says if you want research GRA you should consult them, there is no law in Ghana that says so, we have academic freedom that allows us to research into issues. We have not researched parliament, we have only researched respective members of parliament, and the speaker must make that distinction clear".

The poll published on Monday stated over 186 MPs are likely to lose their seats.
The Survey had 42.6% of the respondents ready to retain their lawmakers with 7.9% of the respondents still undecided.

Also, a majority of the respondents representing 46.7% do not want their incumbent MPs to contest in 2020 general elections while 42.4% want their MPs to contest with 10.9% still undecided on whether their MPs should contest or not.



In two regions 50% or more would vote for the incumbents: Volta (56.4%) & Oti (50.0%), the report said.

"In nine others 40% or more would vote for the incumbents: Savannah (48.7%), Ashanti (45.7%), Bono East (45.7%), Ahafo (45.5%), Northern (45.3%), Western North (45.2%), Upper West (42.7%), Eastern (41.7%) & Central (40.7%)\