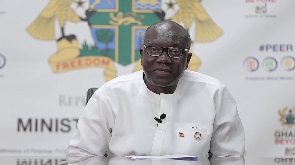 The General Secretary of the Ghana Federation of Labour, Abraham Koomson, has bemoaned the "numerous" taxes Ghanaians have to pay.
He said that the finance minister is confused about how to run the economy because there are already about 17 taxes.

His comment comes after the passage of the three revenue bills; Excise Duty, Growth and Sustainability Levy, and Income Amendment Bills.

"This government, they are confused especially the finance minister who doesn't know what he is doing. Already, about seventeen taxes are being paid, we have import duty which is 5%, import VAT of 15%, processing fee, ECOWAS Levy, Network Charge VAT, Network Charge Covid-19 levy, Health, Ghana's Shippers Authority SNF fee, Import National Health Insurance, Network Charge National Health Insurance, IRS Tax deposit, Special Import Levy…

"Seventeen taxes are being paid before these three new ones so we don't need taxes again," he was quoted by 3news.com.
He also added that these taxes must be put to good use, especially when the country is looking to secure some support from the International Money Fund.

"Our problem now is that the taxes that we are paying, if they are not being applied well that is the situation that we will find ourselves in because we know that going to IMF comes with so many implications," he said.

SSD/OGB