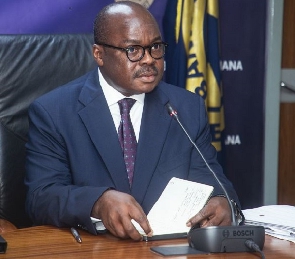 Governor of the Bank of Ghana, Dr Ernest Addison, has reiterated that the Central Bank does not need positive equity to effectively play its role as the government's lender.
According to him, despite the impairment losses recorded in the 2022 financial year, the Central Bank still has enough buffers to provide the needed liquidity support to banks.

Addressing journalists at the 114th MPC press briefing in Accra on September 25, 2023, Dr Addison said the Central Bank remains in a strong buffer position despite recording negative equity in 2022.

"Yes, the BoG can assist as the lender of last resort," the BoG Governor said.

He also added that commercial banks hold 12 percent of their deposits with the central bank as liquidity, which means the BoG has resources to fall on should any of them require the needed support.

"The central bank can operate effectively even in the presence of negative equity, we don't need positive equity to be effective and we don't have to print money to do that," Dr Addison explained.

He however noted that no bank has yet approached the central bank for liquidity support but pointed out that the BoG is ready to provide the needed liquidity to banks in line with the guidelines for assessing liquidity support.
Meanwhile, the rate at which banks borrowed from each other on the interbank weighted average rose to 26.59 percent in August 2023 from 21.93 percent in August 2022, which falls in line with increases in the monetary policy rate.

Consequently, the average lending rates of banks increased to 31.78 percent in August 2023, from 27.96 percent recorded in August 2022.

The banking sector, according to the BoG has remained stable as the industry's total assets increased to GH¢244.7 billion in August 2023, from GH¢204.6 billion in August 2022.

In addition, the growth in banks' assets was funded by deposits, which grew sharply by 38.9 percent to GH¢189.9 billion from GH¢136.7 billion in the same comparative period.

Total borrowings by banks, however, contracted by 41.0 percent to GH¢13.9 billion in August 2023 from GH¢23.5 billion a year earlier.

NOQ