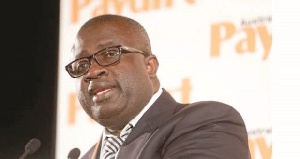 Chief Executive Officer (CEO) of the Minerals Commission, Dr. Tony Aubynn, has declared that illegal gold small-scale mining activities, popularly known as 'galamsey,' have stopped in the country, following the intense media campaign and government's action against the practice.
According to him, there were clear indications that 'galamseyers' have suspended their operations and vacated their sites after government's intervention to halt the practice.

Speaking in an interview on Eyewitness News' Pointblank on Citi FM, Dr. Aubynn said an early assessment of developments after intensified efforts to fight the menace, showed that illegal small-scale mining had ceased in the country.

"When the ultimatum was given weeks ago, we were all waiting to see what will happen, but at the end of it, when we went round to the places, we saw virtually no mining activity going on, almost total cessation. …By and large, there was no mining, and what we also saw was that, a lot of excavators, a lot of them had been parked.

For now, we have seen that it [galamsey] has stopped," he said. Government and stakeholders including the Minerals Commission have been challenged to work to address the menace of illegal small-scale mining which has left severe consequences on the environment. Many communities in about 6 regions of the country are currently suffering the effects of the menace.
Most of Ghana's fresh water bodies have been polluted with thousands of acres of fertile farmlands destroyed as a result of galamsey. Although Ghana's laws are clear on illegal mining, the activity has been allowed to continue for more than two decades.

Citi FM has been at the forefront of media advocacy and crusade for action against the illegal activity. The FM station, among other things, petitioned Parliament to act to stop the menace. The efforts have yielded some positive results including a moratorium on the issuance of new licenses for small scale mining.

Meanwhile, Dr. Aubynn has announced that a reclamation programme to restore destroyed galamsey lands have started in some areas of the country where galamsey is prevalent.