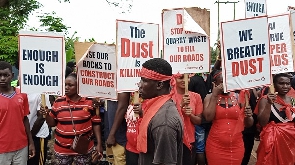 One of the convenors of the #FixTheCountry movement organizers of the #OccupyJulorbiHouse, Nana Yaw Yeboah, says they will soon expose the government for intimidating, threatening, and attempting to stop them from their protest.
Speaking on Frontline on Rainbow Radio 87.5 FM, he alleged that their mobile devices and other forms of communication were hacked by the government.

He indicated that no amount of intimidation, harassment, or threats would stop them from holding the government accountable.

He revealed the documents and evidence to prove to Ghanaians that attempts were made to prevent them from organising the protest, but they refused, and because of that, they have been targeted.
When asked if it was true that they were promised a million dollars to end the protests, he responded, "I don't want to talk about this. It is a serious matter. But, when the time comes, we will speak up. We have all of the documents from our meetings with officials about our protest. We want to speak at the right time. We have the documentation for whatever the state officials we met said.

Apart from that, we have records of what they told us to do, and because we refused, they threatened our lives, hacked our WhatsApp messages, hacked our phones, and labelled us terrorists. We have all of the records and will arrive at the appropriate time to discuss these issues."

Apart from that, we have records of what they told us to do, and because we refused, they threatened our lives, hacked our WhatsApp messages, hacked our phones, and labelled us terrorists. We have all of the records and will arrive at the appropriate time to discuss these issues."