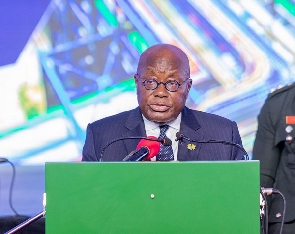 President Nana Addo Dankwa Akufo-Addo has stated the government's commitment to ensuring fiscal discipline for the economy to gain stability after the receipt of the first tranche of the $3 billion loan facility.
He explained that the government is seeking to do this by increasing domestic savings and ensuring control of public expenditure.

Akufo-Addo reiterated that even though the country will leverage the IMF deal to re-enter the international capital market to borrow, there is no rush.

"There is no rush to get back but nevertheless, why can we not take advantage of global savings and make some, it makes a lot of sense to do that.

"What the finance minister said was that we are going to try as much as possible to maintain the discipline which is required, which is the most important prerequisite of a successful programme.

"That will mean ramping up our own domestic savings, being able to put systematic control of our public expenditure to make sure that we are always cutting our coats according to our cloth, and giving the impetus to private sector investment. We are looking at that more than we are looking for assistance from the multilateral," he said while speaking during the ongoing Qatar-Africa Economic Forum in Doha.
Watch the latest edition of BizTech and Biz Headlines below:





SSD/DA