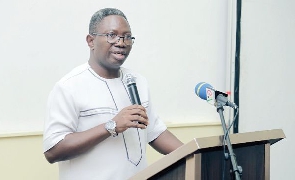 The Ghana AIDS Commission has requested additional financing to carry out more campaigns, advocacy, and public education to reduce the number of new infections in Ghana.
Dr. Kyeremeh Atuahene, Director General of the Commission, stated that as a Commission, they have a responsibility to launch communication initiatives targeted at educating people, particularly at the grassroots level, so that they are properly informed.

He noted that the aim is to promote their campaigns through all means, particularly traditional media, but that this has grown too expensive.

He revealed that they were owing multiple media outlets for running advertising campaigns and that the Commission was unable to pay for these commercials.

"We run commercials on a variety of platforms, including Multimedia, Media General, Omni Media, and others." But we are unable to pay, and we owe them large sums of money. We owe them money that we do not have," Mr Atuahene said.
"More resources are required to run our campaigns and communication strategies. We have a specialist at the Ghana AIDS Commission who has assisted us in developing the ideas, but funding to implement them is a barrier. When I mentioned these issues, people misinterpreted them to indicate that we wanted money. This is not the case."

He added that, "I'm merely highlighting the problems we face as a Commission. We are merely being honest so that Ghanaians will not blame us. We say these things in the hopes that people with a positive mindset will lend a helping hand. Those who refuse to help and believe these are not serious issues will be exposed."

The Director General of Ghana AIDS Commission emphasised that we have everything it takes to eradicate HIV/AIDS, but we need the means to put the mechanisms in place to assist us in doing so.