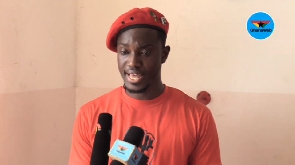 Despite his arrest for holding a vigil on June 6, 2020, at the Black Star Square to commemorate the gruesome murder of George Floyd, Leader of the Economic Fighters League, Ernesto Yeboah has emphasized his continuous fight against government hindering the progress of Ghana.
According to him, anything that suppresses the growth of the country, as well as things that will move the nation towards the wrong direction would be fiercely fought.

"We are fighting against a system that has its knee on our necks; we are fighting against a system that is choking us - we can't breathe," Ernesto Yeboah said in a Facebook post.

Speaking after his release from police grips, he noted no one can imprison his vision for a better Ghana.

"We are aware that to dismantle this rotten system we will be fought and persecuted, but we are strengthened in our conviction for a new and better society for all. They may imprison our body, but they cannot imprison our conviction for a better society," he added.
He assured Ghanaians of a flourishing future with no setbacks, noting that, "Our nation will rise again, and nothing can stop it. The flower of its Youth shall no longer be afraid, we will blossom with courage and conviction".

Read below his Facebook post.