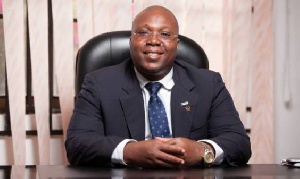 President of Groupe Ideal, Dr. Nii Kotei Dzani, has hinted that his outfit was poised to acquire additional companies to that of the current ones.
According to him, despite falling short in last year's targets, work had already begun to ensure that Groupe Ideal acquires additional companies and also expand in 2017.

"We want to expand to areas which we are not; we want to expand to areas like education, security, media and what have you. We also want to expand more even within the financial sector. Therefore, expect more mergers and acquisitions this year," he disclosed.

Speaking in an interview with Today, Dr. Dzani said the success of Groupe Ideal over the years has been as a result of 'teamwork, dedication and commitment' exhibited by staff members.

He noted that the company's best innovation is its customer-centered strategy, adding that 'we allow our clients to dictate to us.'

However, Dr. Dzani revealed that Groupe Ideal could not meet its set targets last year due to the economic challenges that confronted the country.
"I don't think last year was a great one; I don't think so at all. I think the economy was quite challenging; things were very difficult for all businesses," he said.

According to him, despite the strong economic test last year, the company only had 'eyes' for business opportunities which eventually led to the acquisition of few companies in the year.

"In every economic challenge there is an opportunity and we at Groupe Ideal do not pay much attention to challengers but the opportunities that exist. We take advantage of the various economic challenges.

'…If an economy is challenged and companies are not doing well or folding up, it means that values of companies depreciate and that is where Groupe Ideal comes in to take advantage to buy and revamp and put them on a profitable path," he said.

Aside from acquiring companies locally, Dr. Dzani said his outfit has advanced work to get an office in the United Kingdom this year.
When asked how he thinks his new appointment as a Council of State member would impact his business, Dr. Dzani said his new role will not in anyway affect his businesses.

According to him, none of his companies has over the years associated itself with any governmental project therefore do not see the need to do so now.

"I don't know of our companies that have ever undertaken any government contract or project, so I don't see how that could impact us positively or negatively now. Maybe the new appointment will instead take my business time," he said.