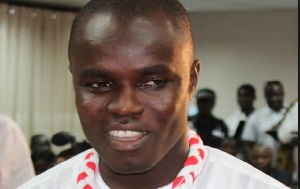 Policy Analyst of the Progressive People's Party(PPP), Kofi Asamoah-Siaw has expressed optimism that their case of the supposed disqualification could be reviewed as the PPP's mistake do not merit such a drastic decision by the Election Management Body(EMB).
He disclosed on Anopa Kasapa on Kasapa 102.5 FM that the party would be heading to the EC's office today to seek clarification and further details of the issues and will consider all avenues to get itself back into the race.

"When you listen to the EC carefully, you'll know that the semantics she used in passing out judgment are not the same. On one breadth she will say 'In effect the person stands to be disqualified' and some too she'll say 'we are unable to accept the nomination of this person', thus in our case she said the number of signatures on Dr. Nduom's forms is short by one, and that she's unable to accept our nomination form. This doesn't amount o disqualification," Asamoah told sit-in host Kwaku Owusu Adjei Tuesday.

That notwithstanding he said should the EC stand by the decision it took against the PPP, the issue would be subject to debate in accordance with section 9 of the C.I .94.

In reference to the law he quoted, Mr Asamoah contended that in case of an invalid form in the EC's vetting, the commission is bound by law to inform the candidate and give him/her an ample time to make the necessary corrections within the nomination period.
He added: "the EC is saying the nomination period ends on 30th September, that is not correct, it practically extends beyond that period."

According to him, the grounds for disqualification for Presidential candidates is clearly spelt out in P.N.D.C Law 285 section 1, insisting that his party to a large extent satisfies all rules indicated in that provision.

He however called for calm among supporters of the PPP saying it will iron out the issues with the commission.