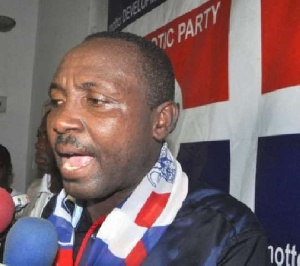 The largest opposition New Patriotic Party (NPP) has said the Commission for Human Rights and Administrative Justice (CHRAJ)'s clearance of President John Mahama in the Ford gift saga, does not settle the controversial matter.
(CHRAJ) in a 78-page report cleared Mahama on the accusations of conflict of interest and corruption variously made against him by certain members of the public and the youth league of the CPP.

A report was made to CHRAJ by the Youth League of the CPP against President John Mahama after it emerged that he received a car gift from a Burkinabe Contractor, Jibril Kanazoe following which the contractor was awarded other government contracts.

Even though the report indicted President Mahama, saying he violated the gift policy with regard to his decision to accept the vehicle, he was cleared of any bribery.

According to CHRAJ, it was satisfied that the gift in question formed part of gifts prohibited under the Gift Policy under the Code of Conduct and that although the evidence show that President Mahama subsequently surrendered the gift to the State, the action nonetheless contravened the gift policy.
Supporters of the ruling National Democratic Congress (NDC) are excited over the acquittal of the President and have said CHRAJ's conclusion settles the matter.

But speaking on Peace FM's Kokrokoo show, Friday, Acting General Secretary of the NPP John Boadu stated that there are still unanswered questions on the matter that cannot be swept under the carpet, simply because CHRAJ exonerated Mahama on the allegation of bribe.

"He violated his own code of ethics on receiving gifts…so what are we being told. If we are told that the Ford car was added to the fleet of cars at the Presidency, so why was the tax paid on that car…who paid the tax? We will probe this matter further, we will not allow it to die a natural death."