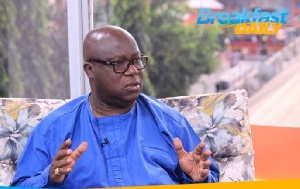 A former Greater Accra Chairman for the National Democratic Congress (NDC), Mr. Joseph Ade Coker, says the NDC will prosecute all NPP government officials who have squandered the country's money.
He alleged that the government has given one million dollars to people under the Agenda 111 initiative, but the money was not used for its intended purpose.

His comment follows the release of the SHS placement.

Ghana Education Service (GES) has announced a new date for the commencement of teaching and learning for BECE graduates, who are expected to start their secondary school education after the release of the 2023 School placement.

Per the new update from the GES, parents and students will be required to start the processing of their enrolment on February 20th.

However, students will be expected to start classes on Monday, February 27, 2023.
"Reporting Date for Form One students is 20th February 2023. The one-week period is for registration and Orientation. Classes begin on the 27th of February 2023." The latest update from the GES indicated.

Since classes start on 27th February, it means SHS1 students who will be boarding students will have to start reporting to school from Friday, 24th February while day students will join them on Monday 27th. It is going to be a bit difficult for all students to be part of the orientation, which starts on the 20th of February, when they are yet to enroll and many more are yet to do self-placement.

The GES has also directed all who want to access SHS school placement through the self-placement module to call the GES Center number. It added that the lines will be activated tomorrow, February 16, 2023.

Following the release of the SHS placement, the issue of the overflow of students at some of the schools came up.

Speaking on Atinka TV's morning show, Ghana Nie with Ama Gyenfa Ofosu Darkwa, Ade Coker said the NDC government knew there would be overlaps at schools at some point and decided to build the E-Blocks.
Unfortunately, he said the NPP government failed to continue from where the NDC ended, therefore the students continue to face overcrowding challenges every year they attend school.

"Since they came, where have they stated that they have prosecuted someone because he went to build E-Blocks and caused financial loss to the state. You have caused financial loss to the state, and when your party leaves power, what will happen to you?

With what they did, we will prosecute everybody. "With Agenda 111, they have given people one million dollars and they have invested it in bonds, and now the bonds have become haircuts…" he said.

You can also watch this episode of People & Places here: