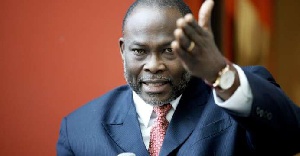 Former Minister of Trade and Industry, Dr Ekwow Spio Garbrah has cautioned current leaders of the country to avoid paths that will invite military intervention, as was witnessed under the revolution of 31st December 1981, which later had a dominance of civilian flavor.
In a message commemorating the 36th anniversary of the Revolution of 31st December 1981, he expressed hope that the dividends of the revolution will guide and motivate Ghanaians to do more, to achieve even greater dividends because of the open system operated in Ghana and the additional sources of public financing available.

While outlining the advantages of the revolution, he said: "That the period laid the foundation for Ghana's Fourth Republican rule. The uninterrupted process of the current dispensation, birthed by a regime deemed unconstitutional, underscore the need for all to have enduring spirit and stand the test of time".

Read full text of his statement below;

31st December Anniversary Message by Dr Ekwow Spio Garbrah

The Revolution of 31st December 1981 launched by the erstwhile Provisional National Defence Council (PNDC) administration under Flt. Lt. Jerry John Rawlings is thirty six years in 2017.

Apostles of the revolution called it an act of social, economic and political cleansing to reverse decadence and to restore functionality and hope in our body politic.
The side effect of the period were alleged excesses which occurred due to illegalities. It is in order that the revolution is marked to among other things, remember those whose lives were sacrificed during that era.

However, the proponents and the opponents of the putsch that swept the scene for eleven years, agree on one thing. That the period laid the foundation for Ghana's Fourth Republican rule.

The uninterrupted process of the current dispensation, birthed by a regime deemed unconstitutional, underscore the need for all to have enduring spirit and stand the test of time.

The mantra of the PNDC- "probity, accountability and Integrity" is perhaps the required standard the nation needs most to cure most of the ills of society.

The revolution instituted some of the most acceptable pillars of nationhood via democratic means and otherwise. Landmark achievements include, the decentralized local government system and the interstate succession law. As we mark the revolution, l pray the nation avoids the path that invited the military intervention which later had a dominance of civilian flavour.

I also pray that the dividends of the revolution guide and motivate Ghanaians to do more, to achieve even greater dividends because of the open system we now operate and the additional sources of public financing available. Forever to be remembered but never again