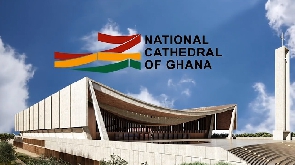 Ghanaian scholar of African Pentecostalism, Rev. Prof Kwabena Asamoah-Gyedu has expressed his dissatisfaction regarding the poor level of participation of Ghanaians in the National Cathedral project.
The academic while speaking at the 'From The National Cathedral symposium' held at the Prof. J. H. Nketia Hall at the Institute of African Studies, stated that the National Cathedral goes beyond a national centre of worship but also a symbol of God's power and his ability to change lives.

Reverend Asamoah-Gyedu commended the national project's Board of Trustees for keeping the vision alive and emphatically described how displeasing it is to see them targeted for public ridicule.

"I am disappointed to see that there is no leading Christian who can stand for the National Cathedral cause; The trustees are doing the best but they should not be the target of insults that comes from our various media spaces." he expressed.

The 13 Member Board which includes, Apostle Prof. Opoku Onyinah, Archbishop Charles Palmer-Buckle, Most Rev. Bishop Justice Ofei Akrofi, Rt. Rev. Prof. Emmanuel Martey, Most Rev. T.K. Awotwi Pratt, Archbishop Nicholas Duncan-Williams.

The rest are Rev. Dr. Joyce Aryee, Rev. Eastwood Anaba, Rev. Victor Kusi-Boateng, Rev. Dr. Frimpong Manso and Dr. Paul Opoku Mensah, so far has supervised the pushing of GHS 399.00 million Ghana cedis into the commencement of the project.
The reverend called for a major recaliberation of Ghanaian mindsets to alter the perception carried about by citizens and give them an idea of how important the project to actualizing the history of Africa.

"Jesus as a theological idea has to be reconciled with Jesus as Saviour, Healer and Comforter; the narrative here in Ghana must be changed."

He added that the key to changing the narrative is the accurate impartation of knowledge into Ghanaians about the history and the role of Africa and its Diaspora in the Christendom. "We must reconcile the past of the Diaspora and the past of those who are still here to make that change of the narrative possible."

'Conversations From The National Cathedral' Symposium under the theme, 'Is Christianity The White Man's Religion?' alongside 'The Bible and the Remaking of Africa and it's Diaspora' was set as an avenue to understand the role of Africa in the Christian story; The Bible's role in Africa, including the African Diaspora.

The symposium took a contextual glance of Ghana as "A Home for African Christianity' consisting of three analytically distinct but interrelated elements – the National Cathedral of Ghana; The Bible Museum of Africa, and the Biblical Gardens of Africa.