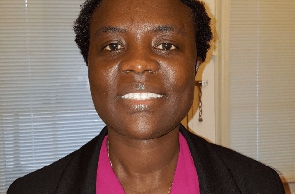 The Executive Director for Ghana Environment Advocacy Group, Elizabeth Vaah, has called for a higher authority within the sub-region or beyond to compel the government of Ghana to fight against illegal mining popularly known as 'galamsey'.
She made this call in response to an interview with Accra-based Joy News which was monitored by GhanaWeb.

According to her, the government is failing to grasp the devastating effect of galamsey on the environment and the numerous calls by individuals, CSOs, and community members to have it stopped.

She added it is therefore the need to involve a stronger hand to force the government to tackle the menace.

"I am looking for people coming together internationally to maybe take Ghana to the International Court of Justice or something for environmental degradation of this water body that serves the two countries. I think have to go beyond just the diplomatic letters. Because we need a stronger hand to force people in leadership to act" she said.

The Executive Director, argued the absence of will-power from the government of Ghana to put an end to illegal mining, fuels the galamseyers to continue with their illegal act of destroying the river bodies in the areas where their activities are having a devastating effect on water bodies shared neighbouring countries.
"These galamseyers, those sitting on the chanfangs, are not stronger than Ghana. So, something is happening that is not making the Ghanaian authorities have that desire to get rid of it. And we need the West African region to come out and say, you cannot destroy this land for all of us. Something must happen beyond what the communities are doing. There are people in the communities who are helpless, they don't want this but where could they go? The police won't do anything, the DCE won't do anything, nothing," she continued.



Share your news stories and ideas with GhanaWeb




To advertise with GhanaWeb


Meanwhile, watch a snippet of GhanaWeb TV's latest program that focuses mainly on Everyday People below:





NW/OGB