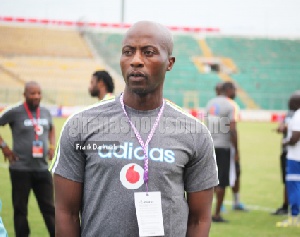 The deputy coach of the Black Stars of Ghana, Ibrahim Tanko believes it is prudent for other players to be handed an opportunity to showcase their talent.
Tanko says every in form Ghanaian player deserves the chance to don the national jersey but just few can be called at a particular time." Tanko stated after Ghana's squad for the world cup qualifier against Egypt was released on Tuesday.

"There are others players the coach want to see and we have done nothing wrong by not inviting certain players. We the technical team want to assess some other players"

"This is our last game so we have decided to try others so that by next year we can blend the old and the new together to get a formidable team"
Tanko added: "Every match is equally important although we cannot qualify, we are taking the Egypt game very serious. I don't think it is right for people to say we should have used the Black Stars B team only"

The Black Stars will face Egypt in the last game of the 2018 World Cup qualifier at the Cape Coast Stadiun on the 12 of November this year.

The first round game between the two countries last year November ended 2-0 in favor of the Pharaoh's.