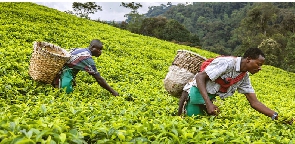 Prof. Julius Hagan, Vice Dean of the University of Cape Coast's School of Agriculture, believes that Ghana's focus on the agriculture sector could prevent any potential crises.
He emphasized that often, challenges arise due to a lack of seriousness in the sector.

He said that most agricultural approaches do not yield significant benefits to the country, highlighting the need to treat agriculture as a business to fully benefit from its potential.

Prof. Hagan delivered remarks at the 1st international project management boot camp at the University of Cape Coast.

He stated that agriculture must be treated as a business, requiring forecasting, planning, and implementation of measures to achieve expected results.
Prof. Hagan highlighted the challenges faced by the agriculture sector, particularly in Niger and Burkina Faso, where onions and tomatoes are scarce due to the inability to produce locally for food production.

The speaker emphasized the need for better road networks in farming areas to prevent spoilage of crops, stating that it takes time for crops to be harvested and that the responsibility lies with farmers, the government, and university researchers acquiring knowledge in the area to ensure the safety and quality of food.

"If we take agriculture more seriously, we will benefit. Consider what is happening in Niger and Burkina Faso. Because of the instability in these countries, onions are scarce, and those that are available are expensive. We will reap the benefits if we do our best and treat agriculture as a business," he added.