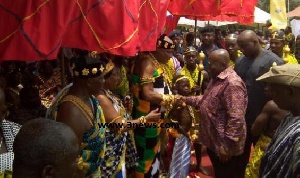 President Nana Addo Dankwa Akufo-Addo says government's long term strategy to fight the galamsey menace will soon be released.
Speaking at the coronation of Kwahu Obomenghene Nana Effa Opinamang III, President Akufo-Addo said his government will do its best to maintain a peaceful relationship with the Chinese government but will make sure the laws are enforced in order to put a halt on the galamsey menace.

The galamsey menace was one of the many issues Nana Effa Opinamang III pleaded with the president to solve. In Twi he said "galamsey is destroying our lands and water bodies. You made a promise to solve all, our president when we vote you to into power.

Now that you are president please ensure that you solve this problem for us in order to save the lands for current and future generations." Galamsey has destroyed most water bodies He also made mention of how Fulani herdsmen are destroying their farms and pleaded with the president to come up with policies to guide cattle rearing in the country in order to save farms.

Again Nana Effa Opinamang III pleaded with the president to give them a grant to set up some factories in the Kwahu area in order to create more jobs for the youth. This he said will support the government's 'One-district, One-Factory' policy, which is yet to be implemented.

In response, President Akufo-Addo expressed gratitude to the people of Kwahu for throwing their weight behind him during last year's general elections, which made him victorious.
He said his government will soon come up with a cattle ranch policy that will serve as a long-lasting solution to the issue of Fulani herdsmen in the country.

On the issue of galamsey, the president stated that his government will ensure that jobs are created for youth as a substitute to the illegal mining operations. "We are working very hard to come up with a policy within which we can find a long-lasting solution to the galamsey problem.

Someone might think we have a problem with the Chinese government but that is not the case. We are only enforcing the laws." The president reiterated his willingness to implement the free senior high school policy which he said will commence by September this year.

The coronation of the Kwahu Obomenghene attracted some government officials including the ministers of state.