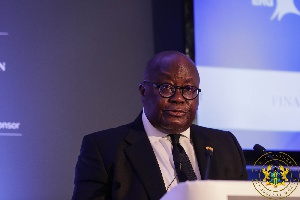 President Akufo-Addo says his government is reviving the Ghanaian economy despite the difficult circumstances it inherited from the previous administration.
According to President Akufo-Addo, the first order of the day for his administration was to get the fundamentals of the economy right, a prerequisite for realising the vision of Ghana becoming an industrialised nation.

Speaking at the 5th Financial Times Africa Summit, on Monday, 8th October, 2018, President Akufo-Addo said with some degree of success, his government has "stabilised our currency despite the recent challenges of a stronger dollar, and has reduced significantly inflation from 15.4% we inherited in 2016 to 9.9% today, and moderately, the cost of borrowing."

In addition to this, he disclosed that a number of tax cuts have brought relief to businesses, and at the same time, reduced substantially the country's fiscal deficit from 9.3% in 2016 to 5.9% in 2017, with a projected 4.5% deficit this year.

"Indeed, the Ghanaian economy, whose growth rate stood at 3.6%, in 2016, the lowest in two decades, grew by 8.5% in 2017, and is expected to grow, in 2018, by 8.3%, which, according to the International Monetary Fund, would make it one of the fastest growing economies in the world this year," he stated.

The president emphasized that the relative success of the implementation of his administration's business-friendly policies, and the availability of affordable and reliable power, has enabled industry, whose growth rate stood at negative 0.5% in 2016, to grow by 17.7% in 2017, the highest sectoral growth in the economy.

He indicated that a number of deliberate interventions to reduce the cost of doing business, reduce the stress associated with setting up businesses, and formalize the economy have been put in place.
"The e-business registration system, the paperless port clearance system, the digital property addressing system, the mobile interoperability platform, and the issuance of the national identification card, will all help quicken the pace of change to bring us into the technology-driven era, and make our businesses competitive so that we can attract the requisite investment, foreign and domestic, to spur on our country's economic transformation," he stressed.

VW, Sinotruk Plants

The modest successes chalked in reviving the Ghanaian economy and creating a business-friendly environment, President Akufo-Addo said, have received major boosts with the announcement made by two global car giants, Volkswagen of Germany and Sinotruk of China, of their decision to establish, very soon, assembly plants in Ghana, with the intention of producing their vehicles in the country in the medium term.

"Tech giant, Google, has also decided to base its African Artificial Intelligence Centre in Ghana, which will make it the first in Africa. US global energy giant, ExxonMobil, and the big Norwegian oil and gas company, Aker Energy, have both signed agreements with the Ghana National Petroleum Corporation (GNPC) to undertake deep-water oil and gas exploration and production," he said.

He announced that "the rapid enhancement of foreign direct investment in our economy is very welcome, with its concomitant transfer of technology, as we try to realise our vision of a Ghana Beyond Aid, that is building in Ghana a strong, viable economy focused on trade and investment cooperation and not on reception of aid."