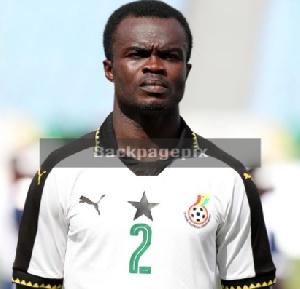 Ghana defender Amos Frimpong has reiterated the commitment of players in the Black Stars B in the ongoing WAFU Championship in Cape Coast insisting they are not playing for money.
The Kumasi Asante Kotoko captain and Black Stars B believes the players are committed to the cause pf the nation than concentrating on money, a phenomenon which has bedevilled the senior national team on numerous occasions.

But Amos says the love and passion they have for country has been their driving force and not money.

"We wearing the national jersey not for anything but the love and passion we have for the country," he told, Takoradi-base journalist Kobby Stonne.

"We love the Black Stars and it is our passion to play for the country and we are playing for the team because it's been our passion when we were at our various clubs.
"Playing for the country is the issue not money. What is important now is the game and the trophy because our aim now is to win the WAFU Championship," he added.

The Black Stars B are yet to receive winning bonuses after their 2 straight win in the ongoing Wafu tournament.

The side will play Mali in the second group game at 6:00 pm on Saturday and Amos is expected to play full 90 minutes for Ghana.