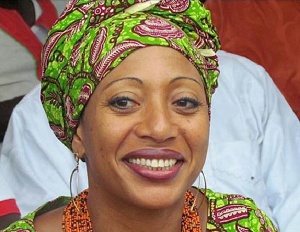 The opposition National Democratic Congress (NDC) has not taken lightly to claims by daughter of Ghana's first President, Samia Nkrumah its members and leaders are opportunists trying to hijack matters of the Nkrumahists as though they are themselves.
Members of the NDC on Thursday took to the principal streets of Accra in a Unity Walk to commemorate the Founder's Day celebration; a move that has been criticized by Samia who said they were weeping more than the bereaved.

But National Organiser of the NDC, Kofi Adams though admits Samia is a biological daughter of Osagyefo Dr Kwame Nkrumah, it was not indicative of the fact that she determines who celebrates her father or otherwise.

According to him, Kwame Nkrumah will remain an icon of the country he founded and anyone who feels passionate about his contributions to the country as a citizen or not has the right to celebrate him.

Mr Adams cautioned the former Convention People's Party (CPP) National Chairperson and flagbearer hopeful against making such unsavory remarks as it does not augur well for the ;political discourse of the country.
"Samia is not the owner of Dr Kwame Nkrumah. Yes, Nkrumah is your father but it doesn't make you the owner because he is a father to all. We will continue to celebrate him whether Samia likes it or not" he said on Accra based Okay fm.

He argued that the NDC is always known for its support for Nkrumahist ideals and ideologies ,stating that the criticisms by Samia Nkrumah will not in any way sway the party from its position about Ghana's first president insisting that they will continue to celebrate him but will however resist attempts to distort the history of the country.

"Samia's views will remain hers and will not erase the achievements of Kwame Nkramah and the fact that he is the only founder of Ghana" he noted.