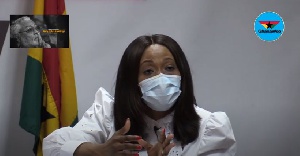 The Electoral Commission (EC) has denied allegations that it is attempting to disenfranchise people through the ongoing voter registration process.
Jean Mensa, the Electoral Commissioner, fiercely refuted the allegations during a press conference on Monday, September 18, 2023.

Her remark follows charges by the NDC that the EC was collaborating with the NPP to prevent qualified voters from registering in the ongoing election.

The NDC accused the commission of intentionally sending faulty registration machines to their strongholds, making it difficult for first-time voters to register.

But responding, the EC Chairperson described the allegations as false.

"As a Commission, we are working around the clock to ensure that every eligible voter or person who is eligible to register does so with ease. We have heard allegations from various quarters that the Commission is disenfranchising eligible voters and this is false.
"It is not in our interest to disenfranchise any eligible voter. We pride ourselves that our voter register meets international best practices.

"We are well aware that the Commission's policy to use our 268 district offices as registration centres have attracted some criticism from some section of society and as you are all aware, the Commission conducted a full-blown registration exercise in some 33,000 plus polling stations in 2020 and it is important to note that the current exercise is an update of the register."

She stressed that the restriction of the registration to its district offices will not in any way disenfranchise voters.

She revealed that the EC plans to hold continuous registration in the district offices as well as mop-up exercises in hard-to-reach areas before the 2024 elections.

"It is important to note that this will not be the only registration exercise we will have before the 2024 elections."