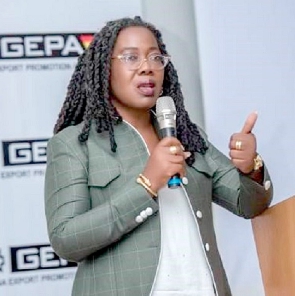 Chief Executive Officer of Ghana Export Promotion Authority (GEPA), Dr. Afua Asabea Asare, has said her outfit was ready to achieve its target of about $ 4.6 billion a year for non-traditional exports.
She however stated that an amount of $3.8 billion was accrued last year.

Dr Asabea Asare further said GEPA was keen on growing the trade-in service as it raked in $8 billion from that side.

In an interview with Citi News and monitored by GhanaWeb Business on September 22, 2023, she said, "Our target is about $ 4.6 billion a year and so far we are around $3.8 billion a year without adding the trade in services. We have been very keen on growing the trade in services and so for some time now we have been trying to measure that and since we haven't gotten to where we think it is adequate to add to the NTE statistics we have not done so."

"But last year, 2022, we got about 8 billion alone in trade in services so we think this is significant. if we should add that to the 3.8 billion, we should be getting somewhere. But we are not complacent we really want to achieve the target minus the services for about 4.4 billion every year," the GEPA CEO stated.

NTEs are horticultural products, fish, seafood, prepared food and beverages, handicrafts and other manufactured items.
Below are the top 10 non-traditional export products for 2022:

Cocoa paste

Cashew nuts

Cocoa butter

Iron and steel circles, rods, sheets, billets
Articles of plastics

Aluminium plates, sheets and coils

Canned tuna

Natural rubber sheets

Cocoa powder
Shea oil

SA/NOQ

Ghana's leading digital news platform, GhanaWeb, in conjunction with the Korle-Bu Teaching Hospital, is embarking on an aggressive campaign which is geared towards ensuring that parliament passes comprehensive legislation to guide organ harvesting, organ donation, and organ transplantation in the country.

Watch the latest edition of BizTech and BizHeadlines below:




Click here to start the nomination process for the 2023 GhanaWeb Excellence Awards