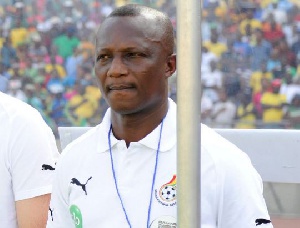 Head coach of the Black Stars, James Kwesi Appiah says he hopes the country will learn from its failed attempt to qualify for the 2018 FIFA World Cup in Russia.
According to Appiah, the poor start to the qualifying campaign under former coach Avram Grant was the undoing of the senior national football team.

Speaking on Metro TV on Wednesday, Appiah said "I hope that next time we can learn from the World Cup failure. Yes, we could have saved our campaign and still qualified but in the end we started poorly and that cost us. Next time we need to start well and remain focus on the goal," he said.

Appiah, who was coach of the Black Stars during the last World Cup in Brazil returned this year after the Ghana Football Association (GFA), decided not to renew the two and half contract of then coach Avram Grant.

Grant started the 2018 qualifiers and managed only one point from the opening two games, putting Ghana at a disadvantage from the onset.

Appiah tried to rescue the situation, but he managed to one win and three draws in the final four games.
Egypt therefore qualified at the expense of Ghana, meaning the Black Stars failed to reach the World Cup for the first time since 2006.

Appiah has however, decided to refocus his attention to building a new team, capable of qualifying to and winning the 2019 Africa Cup of Nations to be hosted in Cameroon.

Kwesi Appiah also reiterated the point that his doors are not closed to any Ghanaian football player, including the Aye brothers as he prepares for future tournaments with the senior national team.

"If a player has not been invited it does not mean that you are out of the team and if you are called now it does not guarantee anything. I keep saying that the players must just keep doing well in their leagues and I promise you that I am watching and monitoring".