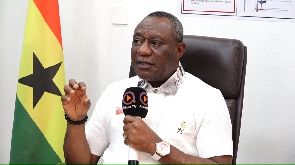 Henry Kwabena Kokofu, Executive Director of the Environmental Protection Agency (EPA), has urged Ghanaians to return to the days when food was purchased in leaves.
He said that the amount of rubber and plastic used in Ghana contributes to environmental pollution and land degradation, so he asked everyone to use less rubber and plastic.

Speaking to Speaker Nana Yaw Fianko, host of "The Agenda" on Atinka TV, the EPA boss hinted that, one way to reduce the use of plastic is to revert to buying foods in leaves, which he said are healthy, biodegradable, and environmentally friendly.

"I must say that the leaves are healthy and easy to rot when disposed of (biodegradable), hence they are environmentally friendly. "Putting hot Kenkey in a rubber bag, on the other hand, results in chemical transfusion and the destruction of the body," he explained.
Mr. Henry Kwabena Kokofu observed that the production of plastics serves a commercial purpose for many Ghanaians, hence it will be very difficult to ban; however, he believes that the laws should be enforced to regulate the use of plastic bags in the system, as done in countries like the UK and America.

"Why ban plastic production? It's for commercial activities, other countries have not banned plastic production, but you should be ready to pay when you use it." "The laws should be strengthened so that both buyers and sellers of plastics will bear the cost," Dr. added.