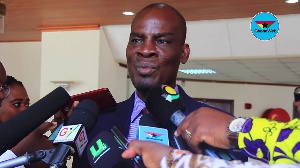 Minority Leader, Haruna Iddrisu on Wednesday said Ghana has not learnt any lessons from the barbaric murder of Major Maxwell Adam Mahama.
Then Captain Mahama, who was part of an anti-galamsey task force, was grisly lynched and burnt to death by a mob whilst on his early morning jogging on May 29, 2017, in Denkyira-Obuasi in the Central region.

The mob later claimed they mistook him for an armed robber because he carried a weapon.

The gruesome murder shocked the entire nation, and led President Akufo-Addo to promote him posthumously to Major, gave him a State Burial and set up a Trust Fund to cater for his family and any other matters.

A huge monument was unveiled in Accra, Wednesday immortalising him.

Reflecting on the death of Major Mahama two years after his grim murder, the Minority Leader bemoaned Ghanaians learnt nothing from the soldier's murder.
"I understand that a monument has been named in his honour. It was what we collectively demanded," Iddrisu told Journalists in Accra Wednesday.

"But," he continued "the rule of law and the sanctity and dignity of the human life is still not being respected. We still have lawlessness in the country, we still have incidents of lack of respect to the rule of law and due process some even occasioned by government authorities and government institutions. That remains very worrying."

Iddrisu added: "There are major issues affecting the military and even the matter of Major Mahama, situated in context it was about small scale mining and we have now heard that the life of a Chinese woman is superior to the rule of law and $2billion worth greater than the rule of law.

"So what lessons? If we now make public comments so as to compromise and give this kind of a wholesale amnesty to a person who is caught within the remits of the law."

Nonetheless, he described the fallen Major as "a brave person and we all respected his sacrifice to his country, his devotion to national and public service but we should do more as a country to operate the letter and spirit of the rule of law."