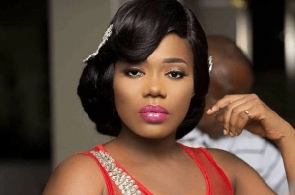 Ghanaian songstress Mzbel has critiqued the shift of the music industry from that of originality to imitation of other sounds.
Speaking on 3Music on August 22, the "16 Years " hitmaker lamented the decay of original Ģhanaian sounds like Hip-life in favour of imitated sounds.

"We don't have anything original anymore," she said. "We started Hip-life and we're supposed to build on it. But all of a sudden we just left it and started copying the Nigerians."

"But these people travel here to listen to our beats and add their culture to it," she continued. "But we just left our Hiplife. We stopped doing Hiplife. Now all of a sudden we said we are doing Afropop. And then all of a sudden something came called 'Crank'.

"We just keep moving away from Hiplife. We could have changed Hiplife. We could have put more traditional drums in the Hiplife, we could have made the Hiplife something that the world would appreciate.

"Azonto went out on its own, nobody promoted Azonto. We could have done something with it but we left it. We could have done something original," she argued.

Mzbel's comments come at a time when there's a much-heated debate over the invasion of foreign (mostly Nigerian) music into the Ghanaian space. Many have called out Ghanaian artistes for not working hard enough to push Ghanaian music out in the international market like their Nigerian counterparts have done.
????ICYMI????????????: Mzbel's monster hit, "16 years," was a record inspired by conversations about rape & the girl child which were hosted by legendary Ghanaian actress, Maame Dokono.

Mzbel further revealed that she wrote the song in a taxi.

????????????

pic.twitter.com/qXjBg0qK8z

— Ölele | Deep Throat Sauce????????‍???????????? (@OleleSalvador) August 23, 2023
ID/BB
Ghana's leading digital news platform, GhanaWeb, in conjunction with the Korle-Bu Teaching Hospital, is embarking on an aggressive campaign which is geared towards ensuring that parliament passes comprehensive legislation to guide organ harvesting, organ donation, and organ transplantation in the country.