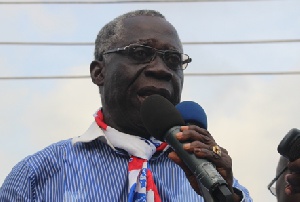 The New Patriotic Party (NPP) government is determined to fix Ghana's ailing economy, the leader of the transition team of the incoming government, Yaw Osafo Marfo, has said.
According to the former Finance Minister, one of the approaches they will adopt to achieve that would be to cut down on unnecessary expenditure.

He identified sole sourcing as one of the loopholes through which a lot of wastage occurs and said the new administration would plug it.

Mr Marfo, speaking to Class Business on the sidelines of the party's thanksgiving service at the Accra Sports Stadium on Sunday December 18, also assured that the Akufo-Addo-led government would ensure fiscal discipline.

According to him, the NPP government will make sure "that expenditure is reduced and if there are reasons for you to borrow, you do so wisely".
He dismissed suggestions that the economy is likely to go through more hardships during the first two years of the administration.

"All of us were in difficulty. That is why there was such a massive rejection of the NDC. So you cannot tell me that it can be worse than during the election; it's going to be better.

The economy has been run down to a level where everybody was in difficulty, that is why the rejection of the government was really emphatic. For the next two years we are going to go through a lot of discipline.

Those who were earning money without working, it will cease. People will have to work for their money, so we are going to make sure there is discipline…" he stated.