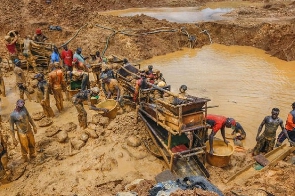 The District Chief Executive for Akrofuom District Assembly, Maurice Jonas Woode, has expressed outrage at the activities of illegal miners at Ampinyaase.
The DCE says the activities of these miners had reached their peak to the point that they have attacked a task force set up by the Adansi Traditional Council to deal with illegal mining.

Speaking in an interview with Kwabena Agyapong on Frontline on Rainbow Radio 87.5Fm, the DCE indicated that the task force had gone to the site of these illegal miners to halt their activities but attacked with machetes, stones, clubs, and others.

He revealed that the illegal miners destroyed a vehicle with the licence plate GT 4777-09.

He claimed that illegal mining was common in the area and that this was not the first time illegal miners attacked a task force tasked with dealing with the issue.
He also revealed that a task force established by the assembly was attacked in 2022, but no arrests were made.

He said that the District Security Council will meet on Wednesday, May 31, 2023, to find a permanent solution to the problem.

He described the galamsey fight as collective and asked residents, the media, and other stakeholders to support the efforts.

"The battle against galamsey is collective. The media has a role to play in supporting our efforts. We would also like to encourage residents and other stakeholders to join us. They should all agree that galamsey is a threat to life and that we must all work together to combat it. If you want to min, you must first complete the licencing process. Do not mine illegally or without a permit. You are not permitted to engage in illegal mining, and when confronted by the task force, you attack them. This illegality will not be tolerated any longer. We'll meet tomorrow to discuss the problem," he said.