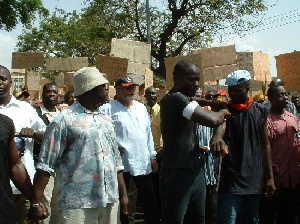 Tue, 21 Feb 2006 Source: Chronicle
THE FORMER PRESIDENT, Flt. Lt. Jerry John Rawlings, has stated that his National Democratic Congress (NDC) would not allow any electoral fraud again in this country.
According to him, the government?s haste to pass the controversial Representation of the People Amendment Bill (ROPAB) into law to allow Ghanaians living abroad to exercise their franchise would not only amount to an electoral fraud but also a recipe for disaster due to its impracticability.

The Former President, who is joining the forces of the ?Concerned Ghanaians? today, to stage a second protest march against the government over the ROPAB, hailed sections of the Ghanaian public he described as peace-loving, for coming out massively to register their protest against the bill.

Speaking on behalf of the NDC founder, his Special Aide, Mr. Emmanuel Victor Smith, confirmed to The Chronicle that indeed his boss would be among hundreds of demonstrators to hit the streets of the capital today.

According him, since the bill would be a recipe for disaster if passed, the concerns raised by the ?Concerned Ghanaians? are very serious; hence the need for the government to reconsider its decision by withdrawing the bill.

Urging Ghanaians to turn out in their numbers, the former President said, ?Let us use our numbers to demonstrate to the whole world that this intended electoral fraud is not allowed again in this country.?

When asked about why the NDC is seriously opposing the bill, since he had sought to extend the ballot to Ghanaians abroad, Mr. Smith discounted the context and said, his boss only raised the issues after he had toured America and United Kingdom when issues of dual citizenship and enfranchising Diasporans came up.
He said after the revelation, the former President tasked the appropriate institutions, which came out to establish that it was not feasible. ?The Electoral Commission did not see its way clear as to the feasibility of implementing to the letter this Article 42,? he said.

Mr. Rawlings, a notable crowd-puller, was not present at the last Tuesday?s demonstration because he was then attending a gender economic forum in Saudi Arabia.

Meanwhile, the Police Administration has backtracked from its initial decision of not granting protection to today?s protesters, which the demonstrators had rejected.

The demonstrators, spearheaded by a group of opposition parties calling itself ?Concerned Ghanaians?, have been calling on the government to withdraw the ROPAB, currently before Parliament. The group last Tuesday presented a petition to the Speaker of Parliament.

In a related development, Honourable Mahama Ayariga, the MP for Bawku Central, has told the press that they were going to go ahead with the demonstration anyway, and that they were not in the least intimidated by the 15-day rule by which MPs could lose their membership of the House if they continued to absent themselves without any good reason.
Source: Chronicle