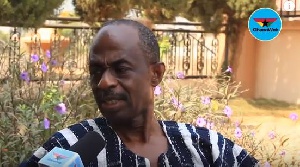 The opposition National Democratic Congress (NDC) has stated that it will not change the sentence slapped on the former national coordinator of GYEEDA Abuga Pele.
The party said it will be absurd to change the ruling due to the political affiliation of Mr Pele.

The comment by the NDC in a statement signed by its General Secretary Asiedu Nketiah comes on the back of a statement by the Member of Parliament (MP) for Odododiodioo constituency, Nii Lantei Vanderpuije who said Mr Pele would be set free if the party is voted into power come 2020 elections.

But the NDC said Mr Vanderpuije's statement do not reflect the position of the party.
'The National Executive Committee (NEC) of the NDC wishes to place on record that the sentiment expressed by the Honourable Member on the above cited statement do not reflect in any remotest sense the position of the party regarding the fight against corruption in the country on the matter involving the conviction of Honourable Abuga Pele in particular,' the statement said.

George Lawson, a Deputy General Secretary of the NDC speaking to Kwaku Obeng Adjei on Starr Midday News on Monday, wondered why an initiator (NDC) of the case will turn around to free the person who has been convicted.

'That's not the position of the party. We are against corruption and if a court of competent jurisdiction has gone through this matter and has come with a verdict, why should we revert it? Not at all,' he said.