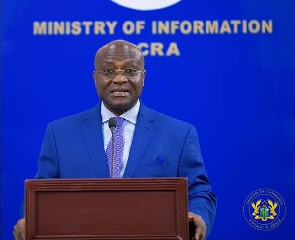 The Majority Leader in Parliament, Osei Kyei-Mensah-Bonsu, has added his voice to commentaries about the galamsey report and the National Democratic Congress's call for a parliamentary hearing, indicating that if the allegations are true, it will require a probe.
According to him, the issue of galamsey and the allegations contained in the report will require a second look before a conclusion can be drawn.

"I will want to have the report and go through it well to inform myself before I make a conclusion on the issues raised by Prof. As I stated earlier, which I agree, galamsey is costing us as a nation. For us to destroy the country for the individuals to benefit for some selected few is not in order for development," he said.

He added that if the allegations raised turn out to be true, there will be an investigation.

"So, if the issues raised are true, then it requires investigation," he said.

Osei Kyei-Mensah-Bonsu was speaking on Kumasi-based Oyerepa TV.
Background:

The NDC, in an address called 'Moments of Truth,' called on the Office of the Special Prosecutor and parliament to investigate the claims made by Professor Frimpong-Boateng, the former Chairman of the Inter-Ministerial Committee on Illegal Mining.

The opposition is demanding a televised inter-partisan probe into the galamsey report, which indicted some NPP top officials for engaging in galamsey or obstructing the operations of the IMCIM.

Meanwhile, watch the latest episode of People and Places on GhanaWeb TV below:




Share your news stories and ideas with GhanaWeb




NW/AE