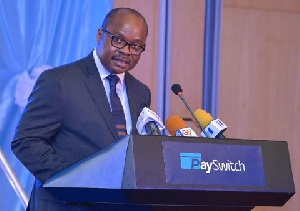 The Bank of Ghana (BoG) has said it will continue to institute measures to ensure a safe banking sector in the country.
According to Dr Benjamin Amoah, Head of Research at the BoG, it is incumbent on the central bank to ensure that customers' deposits are safe, by strictly enforcing the regulations in the banking sector.

The BoG, on Wednesday, 1 August 2018, announced the merger of five banks into The Consolidated Bank Ghana Limited, since they cannot meet the minimum capital requirement of GHS400 million by the end of the 31 December 2018 deadline.

The newly-established Consolidated Bank is fully owned by the Government of Ghana, with a start-up capital of GHS450 million.

The banks that have been merged are The Royal Bank, The BIEGE bank, Sovereign Bank, The Construction Bank and uniBank.

According to the BoG, The BEIGE, Sovereign and the Construction banks obtained their banking licences under false pretences through the use of suspicious and non-existent capital, whereas The Royal Bank had non-performing loans which constitute 78.9 per cent and uniBank had a capital deficit of GHS5.3 billion compared to the regulatory minimum of GHS400 million.


Speaking on this development on Ghana Yensom on Accra 100.5FM Thursday, 2 August, Dr Amoah said: "We have to promote safety, soundness and stability in the financial system and more importantly, protect the interest of depositors."

"If our mothers go through the daily struggle and are able to save some monies in the banks, the Bank of Ghana will need to ensure that those savings are safe and sound.



"In supervising the banks, we have some requirements called Prudential Requirement which the banks must meet. But if they deviate from it and threaten the safety of the financial system, the Bank of Ghana is mandated to follow some steps and withdraw the licences of such financial institutions."