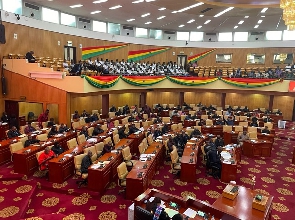 The Minority in Parliament have served notice of their intent to oppose the approval of some three revenue bills currently pending before Parliament.
This was disclosed by Tamale Central Member of Parliament, Ibrahim Murtala Mohammed during an interview on TV3 on Thursday, March 30, 2023. He emphasised that the bills if approved will further compound the hardship imposed on the people of Ghana by the current government.

"We think that it is unacceptable that they will overburden Ghanaians with such taxes. In any case, there is no reason why the government will want to burden the people of this country with more taxes.

"These taxes have nothing to do with the IMF arrangement and that is the story that has been peddled out there."

The minority on Friday, March 24, 2023, suffered a woeful defeat after resolving to vote against the approval of six ministers nominated by President Nana Addo Dankwa Akufo-Addo.
The minority had agreed to follow a directive by its party, the National Democratic Congress to reject all the nominees in demand for a reduction in the size of the government.

However, at the end of a secret voting process, all six nominees received the votes of some members of the minority to augment the majority's votes for approval.

This development has led to accusations of treachery being levelled against the minority with various criticism made against the caucus.

However according to Murtala, the caucus will this time push for an open ballot and vote against all three bills.
"Sometimes one gets extremely worried speaking on it, the good thing is that this vote is not going to be done through a secret ballot, it is going to be an open ballot so we are just hoping that we get our 136 and we are very convinced that the 136 are going to vote against those taxes," he stated.

He pointed that the upcoming vote will serve as an opportunity for the MPs who betrayed the party to redeem themselves.

"I think that those who unfortunately betrayed the cause, they would have realized that considering the backlash and they need to make amends," he said.

The three bills currently before parliament are the Income Tax Amendment Bill, Excise Duty Amendment Bill, and Growth and Sustainability Amendment Bill.
The government is seeking to pass these bills to generate approximately GH¢4 billion per year to supplement domestic revenue in an economy that is currently ravaged by serious challenges.

The government is set to miss a March ending timeline for a Board approval by the International Monetary Fund for a $3 billion facility.

Watch the latest episode of The Lowdown below:


Meanwhile, catch up on the concluding part of Francis Addai-Nimoh's interview on GhanaWeb TV below:





GA/SARA