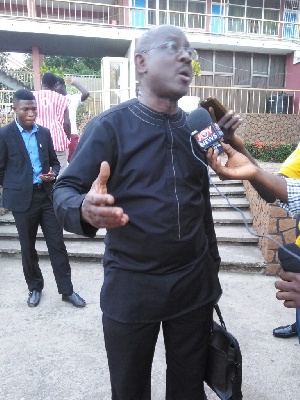 There appears to be a carefully tailored strategy by the NPP in Oforikrom to reduce the number of votes in our strongholds, but we won't take any intimidation from them (NPP), Deputy chief of staff, Jonny Osei Kofi has said.
Addressing electorates at Oforikrom East, one of the electoral area where he vies as the Parliamentary candidate on the ticket of the ruling NDC, Jonny Osei claimed, "The NPP has been making frantic efforts to get minors to queue for their parents and when the NDC challenge the move, then they cause mahyem".

"It is, however, instructive to bring to the fore that in most cases, these efforts would be resisted and foiled by the NDC in Oforikrom"

Adding that the NDC is determined to ensure that their message is not thwarted by any foul play. Mr. Osei Kofi accused his opponent of "unleashing thugs and machomen to cause violence and intimidate electorates in some of our strongholds."

He cited a case to buttress his point.

"For instance, some sympathisers of the NDC were assaulted and others subjected to severe beatings – a situation he said scared most of their (NDC) voters away during the 2012 elections.."but this year we won't allow that'.
Minors

As a father for all especially in his constituency, he advised minors to desist from joining queues for their parents in an attempt to vote ,- warning; it's an electoral offence punishable by law and he doesn't want minors in Oforikrom to engage in any electoral fraud.

Position

According to the Deputy chief of staff, "We are prepared to do everything possible to ensure the success of this year's elections.

He therefore entreated the security agencies, especially the Ghana Police Service, "to rise up to the occasion by checking lawlessness at the polling centres during the elections."