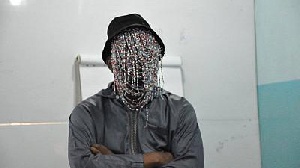 Investigative journalist Anas Aremeyaw Anas has stated in a tweet that: "We will not be intimidated", in connection with death threats from detractors.
His comment follows an attack on one of his ardent fans – Atinka FM's Saddick Adams (Sports Obama).

The investigative journalist has come under heavy attack following his latest corruption exposé captured in his Number 12 undercover documentary jointly produced with the BBC.

Following heightened media discussions on the development, lawmaker Kennedy Agyapong, who has vowed to "strip Anas naked", splashed on his TV station, Net2 TV as well as on social media, numerous images he purports are of Anas Aremeyaw Anas, who normally veils himself while in public.

Meanwhile, the Ghana Journalists Association (GJA) has appealed for a 24-hour police protection for Anas in the wake of the development.

The leadership of the GJA said it has come to their attention that: "Anas Aremeyaw Anas has received many death threats following his latest investigative piece on the game of football in Ghana, which is scheduled to be premiered in Accra on Wednesday, 6 June and Thursday, 7 June 2018".

This was contained in a press statement issued on Wednesday, 30 May 2018 and signed by GJA President Roland Affail Monney.
In a related development, some sports pundits have urged the president of the Ghana Football Association (GFA), Kwesi Nyantakyi, to resign in the wake of his alleged involvement in corruption as captured by the yet-to-be aired documentary.

President Nana Akufo-Addo reported the GFA boss to the police last week Tuesday for allegedly using his name and office fraudulently for personal gain.

Nana Akufo-Addo made the report after having been privy to Anas' Number 12 documentary which captured Mr Nyantakyi on video using the president's name to peddle influence.

Mr Nyantakyi, who was picked up by the Criminal Investigations Department of the Ghana Police Service on last week Wednesday, has been granted bail.

He was questioned by the CID for over five hours after returning home from Morocco.

Prior to his bail, Mr Nyantakyi was escorted to his private residence by CID officials to fish for more evidence.
We will not be intimidated. More strength and solidarity my brother @SaddickAdams ????? https://t.co/xecoOnXrgT

— Anas Aremeyaw Anas (@anasglobal) May 31, 2018