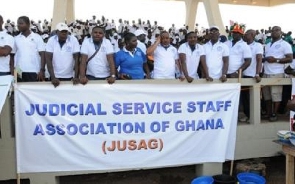 The Judicial Service Staff Association (JUSAG) has questioned the competence of the National Labour Commission (NLC) in declaring as illegal, the strike by judicial workers across the country.
Judicial workers on Wednesday, November 13 embarked on indefinite strike to push for a review of their current salaries for implementation in next year, and not 2021 as suggested by government.

Despite a warning by the NLC to the judicial workers not to go on 'illegal strike', courtrooms were deserted Wednesday morning by court staff leaving persons whose cases were schedule for hearing stranded at the various court premises nationwide.

On the basis of the NLC position, the Judicial Service management issued a statement Wednesday evening calling on all judicial staff to resume "work with immediate effect" and also asked all judges and magistrates "to attend work as usual".

But JUSAG has hit back, asking its members to disregard calls and directives to them to resume work.

JUSAG claimed in a fresh statement on Wednesday that there were threats from various quarters to its members to resume work on the basis that their strike is illegal.
"Those threats should not intimidate any of our members," the statement said.

For JUSAG, "the only body that can determine whether our action is illegal or otherwise is a court of competent jurisdiction and until such court declares so, we shall continue to remain on strike".

It has thus asked all its members to remain resolute and not give in to any threats or pressures from any quarters.

JUSAG claims the current salaries of members was implemented in the year 2017 and was to be renewed bi-annually.

However, it said in the year 2017, the Ministry of Finance sought to cancel the payment of rent allowance its members and "after several protests, the Judicial Council, Government and the Association resolved the issue in 2018 and for implementation in year 2019".
According to JUSAG, wrote 26th April 2019 and subsequently on 29h July, 2019 to request for salary negotiations.

On October 1, it said, "the Judicial Council, mandated to review our salaries and other salary related matters under the 1992 Constitution, set up a committee and considered the proposals of the Association. At the meeting, it was resolved that the decisions of the meeting will be forwarded to the Presidency for approval and same captured in the National Budget for year 2020?.

JUSAG however said it received intelligence that the Ministry of Finance "has rather slated our salary review for the year 2020 and for implementation in year 2021".

"The Association vehemently disagrees with the position taken by government, hence our present demand," it said