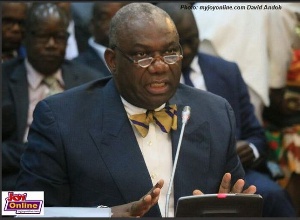 Energy Minister, Boakye Agyarko has indicated that government has resolved not to pay officials of Africa and Middle East Resources Investment Group (AMERI Power) a dime for whatever role they played in the procurement of AMERI power plant if they fail to return to the negotiation table.
Speaking on Oman FM's political analysis programme Boiling Point, Mr. Boakye Agyarko, stressed that he expects officials of AMERI Power to return to the negotiation table to prove that they deserve to be paid else they should forget getting anything from the government.

The AMERI power plant which was procured during the previous Mahama administration is costing the country some US $510 million.

It was procured under an emergency to double the country's energy capacity to address the debilitating power crisis at the time.

However, Energy Minister Boakye Agyarko says the deal is smacked of corruption.

To this end, he said upon assuming the ministerial position he constituted a team to negotiate with officials of AMERI Power since the cost of the plant is very expensive.

The negotiation team, he explained, was put together after officials of AMERI led by one Sheikh Makhtuom paid him a visit somewhere in December last year, after the NPP was declared winner of the presidential election.
Boakye Agyarko, who was the New Patriotic Party's Chairman of the Energy Committee for the 2016 Elections said "I was there one day even before I became a Minister when some people came into my office and they said they were from AMERI power. They started by saying we want to invest in Ghana for the next 50 years but I stopped them from telling me stories and told them there is a problem with the AMERI power deal if they don't fix they should forget it. I indicated to them that no Ghanaian is going to accept doing business with them until we have corrected the wrongs of AMERI Power. I told them to go and form negotiation team and we will also do same but they will bear the cost and they agreed. And I dispatched my team to Dubai to begin the negotiations."

He added that "On the first two days there was a nice negotiation, but it turned hostile on the third day so I called the team to break negotiations immediately and return home."

He continued that after that incident he had dispatched the team back to Dubai on three occasions, but officials of AMERI Power continued to be very hostile stressing that negotiation on the deal has since stalled.

Mr. Boakye Agyarko, who insisted that the AMERI Power deal smacks of corruption revealed that a document available to him indicates that there, was an agreement between AMERI Power and a company called MEDCA for the latter to provide funding for the power plant, adding that standby letters of credit issued by Government of Ghana is now with MEDCA.

He said the actual cost of the power plant as contained in the document is US$ 300million plus $60million OMM bringing the total cost of the power plant to US$360 and wondered why there is an additional $150million.

According to him, government will make sure that all those who have a hand in the deal are prosecuted.