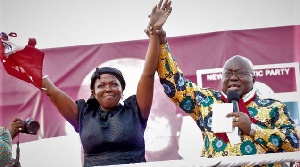 The Ayawaso West Wuogon Constituency branch of the National Democratic Congress (NDC) has said it will not recognise the Member of Parliament-elect, Lydia Seyram Alhassan, claiming the by-election was a "sham".
A by-election held last Thursday following the death of Emmanuel Kwabena Kyeremateng Agyarko saw his widow Lydia Seyram Alhassan elected as his successor.

But the NDC in the constituency in a statement Monday, February 4, signed by the constituency chairman, Aborbi-Ayitey Bismark, called for the annulment of the results, which gave victory to the New Patriotic Party candidate with approximately 69% of votes in her favour.

According to the NDC, the circumstances under which the election was conducted are questionable, as part of it was marred with violence.

"We shall not recognize the heartless NPP candidate, Lydia Alhassanas MP-elect since the entire process was a sham. We call on the Electoral Commission Chairperson to annul the result of the by-election since the election was conducted under questionable circumstances…" portions of the statement read.

The party has also joined the many institutions and stakeholders that have condemned Thursday's violence, precisely at the residence of the NDC candidate, Delali Kwesi Brempong, and at the La Bawlieshie Presby school polling station.


While expressing their disappointment in the Government of Ghana, the Inspector General of Police and the National Security at the manner in which the issue was handled, the largest opposition party is also demanding answers from the government regarding the following:

How many National Security Operatives were commissioned on the day t supervise the

* Ayawaso West Wuogon by-elections?

* How many of the were given weapons and live ammunitions?

* How many M16 and AK47 and accompanying ammunitions were issued for their operations on the elections day on 31st January 2019?

It is the expectation of the NDC that investigations will be conducted into the matter and perpetrators brought to book as soon as possible.