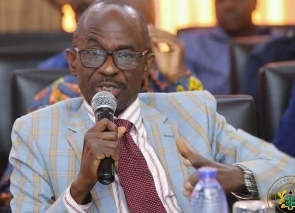 The National Chairman of the largest opposition party in Ghana, the National Democratic Congress (NDC), Johnson Asiedu Nketiah, has said that his party and other opposition parties in the country would not support any military takeover.
According to him, the political landscape in Ghana is different from that of most countries in the West African sub-region where opposition parties back the military to takeover democratically elected government.

He added that opposition political parties in Ghana are committed to ensuring that the country does not add up to the countries in the sub-region that have seen military takeovers, asaseradio.com reports.

"The happenings in the sub-region are not pleasant… Our perception is that opposition groups will always collaborate with military adventurists to stage coup d'état. But in Ghana, the story is different."

"We in the opposition pride ourselves as the architects of this democratic consolidation, as the architects of the stability we are enjoying. We in the opposition are the architects.

"And so, we are ready to protect it and to protect the constitution we have signed into action," Asiedu Nketiah is quoted to have said at the swearing-in of directors of national secretariats at the NDC headquarters in Accra on Wednesday, September.
The national chairman also asked the new executives of the party to discharge their duties effectively to ensure the NDC recaptures power come 2024.

The African Continent has been hit by 10 military overtakes from 2020 to date with the latest victim being the Central African country; Gabon.

There have been seven coups in West African countries, including two in Burkina Faso, one in Guinea, two in Mali, one in Niger and one in Chad.

Two coups in Central Africa, all in Gabon, and one in North Africa, Tunisia.

BAI/OGB
Ghana's leading digital news platform, GhanaWeb, in conjunction with the Korle-Bu Teaching Hospital, is embarking on an aggressive campaign which is geared towards ensuring that parliament passes comprehensive legislation to guide organ harvesting, organ donation, and organ transplantation in the country.

You can also watch the latest episode of Everyday People on GhanaWeb TV below:





You can also watch this episode of People & Places here:




Watch the launch of the 2023 GhanaWeb Excellence Awards on GhanaWeb TV below:




Click here to start the nomination process for the 2023 GhanaWeb Excellence Awards