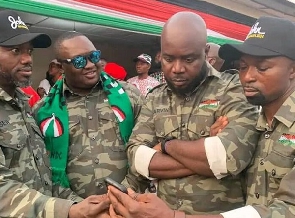 The Ashanti Regional Police Command has granted self-recognizance bail to six Ashanti regional executives of the opposition National Democratic Congress (NDC) who were arrested today for illegal use of military camouflage party campaign activities.
The executives were invited on Monday 20th March 2023 through a phone call by the police command, an invitation the party described as disrespectful and hence declined it.

But the police later officially invited the NDC officials through the regional crime officer hence their presence in the police command.

Addressing the media after securing police bail, first Vice Chairman of the Party who is also the commander of the "NDC's GREEN ARMY" Captain retired John Kwame Jabari said, the Police invitation is a political attempt to intimidate the Ashanti region executives of the party.
He added, the police intimidation will not stop them from wearing the camouflage for NDC activities.

Capt. Rtd. Jabari said those who feel offended by the activities can go to court to stop the NDC's GREEN ARMY's political operation.