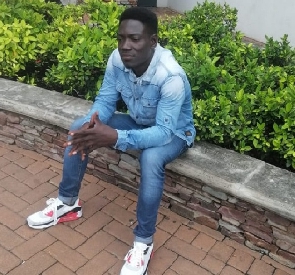 The family of the late Shadrach Arloo, who died after allegedly being manhandled by some personnel of the Ghana Police Service at West Hills Mall, are insisting that he was murdered.
According to the family, the police lied in their narration about the events that led to Shadrach's death and are protecting the people who murdered him.

Speaking in a CTV interview which was monitored by GhanaWeb, an uncle of the Shadrach Arloo, Tawia Nkrumah Hemans, said that his nephew was attacked by the police because of the money he had in his bag which he was using to shop for his sister living abroad.

He added that the police ceased the bag with the money and gave it back empty to a relation who was in the company of the deceased during the incident.

"Our brother was not the only person who went to the mall… could you believe that after killing the young man, the bag that was supposed to be the evidence because there was something illegal in it was given to his friend who was in his company when the incident transpired. The friend was arrested by the police and when he was released they give an empty bag to him which he brought to us.
"He was shopping at the mall for his sister, who had sent him money from abroad. So, he was in constant communication with his sister describing the things he was buying to her. So one of the policemen stopped him and checked his bag and saw a lot of money in it.

"That was when the attacks started. The police started asking him how he got the money and he kept insisting that it was his. That was when the police started beating him up," he said in Twi.

Background

Perpetual Didier, a gospel musician, alleged that some police officers murdered her brother at the West Hills Mall in Accra, on January 30, 2022.
She explained that her 32-year-old brother was brutally assaulted by the uniformed policemen, leading to his untimely death, and for this reason, she wanted the Inspector General of Police (IGP) to act.

"Someone should tag the IGP. I need justice for my brother. Tell him that this is a crime one of his men has done to my family by killing my brother. We are all Ghanaians with equal rights and freedom. Why will you use your position to take someone's life?" she said in her Facebook Live video, amidst tears.

The police, after their investigation on the death of Shadrach Arloo, released a detailed statement which said that their findings showed that the policeman in question, did no wrong.

The statement, dated February 7, 2023, said that the late brother of gospel musician Perpetual Didier resisted arrest by a police officer on duty who was being assisted by private security guards at the scene.
The statement furthered that the deceased, after swallowing the package, became unconscious and was taken to the Sonotech Clinic for medical attention but was pronounced dead on arrival.

It added that per a post-mortem examination conducted on the deceased and in the presence of as many witnesses from the deceased's family and other officials, including MP Dorcas Affo-Toffey, it was confirmed that the cause of death was Asphyxiation and Obstruction of the airway by a foreign body.

Watch the interview below:


You can also watch this edition of People & Places on GhanaWeb TV:





IB/BOG