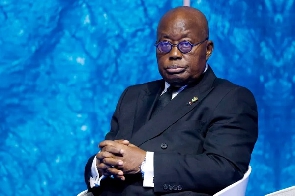 The mantra that 'the internet doesn't forget' continues to manifest as politicians and people are often reminded of their previous views on certain subject and trolled for either acting differently or altering their views on the same issue.
Nana Addo Dankwa Akufo-Addo who was the then presidential candidate of the New Patriotic Party gave his verdict of bringing down corporate income taxes should if he was voted into office.

The tweet which has resurfaced in 2023 showed the current president indicating his plans to bring corporate income tax down to a further 20 percent upon assumption of office.

"God-willing, when I win, I am going to bring corporate income tax down further to 20%," Nana Akufo-Addo wrote in 2016.

Fast forward to 2023, the tweet has been subjected to criticism and mockery as social media users draw correlation to the recent happenings in the country just after Parliament on Friday March 31 pushed through with the passage of three new taxes which would significantly impact all Ghanaians and their livelihoods.

Twitter users have in the last 48 hours criticized the governing New Patriotic Party and its handling of the Ghanaians economy which is now eagerly seeking an IMF intervention to turn around the economic fortunes of the country.
On Friday March 31, 2023, members of the majority caucus in parliament, amid drama and long hours, passed through three revenue bills which government believes would support its revenue mobilisation drive even as the country continues to face a wave of economic challenges.

The taxes passed include Income Tax Amendment Bill, Excise Duty Amendment Bill, and Growth and Sustainability Amendment Bill.

Meanwhile, Ghanaians on social media have lambasted government over the move to introduce new taxes even as citizens continue to struggle to make ends meet amid rising inflation, fuel price hikes and among others.

See the tweet below:


Watch the latest edition of BizTech and Biz Headlines below:







MA/KPE