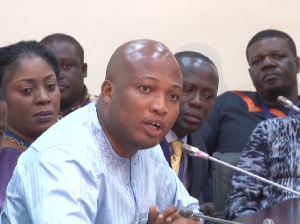 The Finance Minister, Ken Ofori-Atta on Wednesday, stormed Parliament to address the brouhaha surrounding the US$2.25 billion bond issued by the ministry in April.
He said the domestic bonds were issued in a competitive and transparent bidding process managed by Joint Book Runners namely, Barclays, Stanbic and Strategic African Securities (SAS). He claimed the book runners were engaged by the previous government for similar bond issues and that it was a transparent process.

However, Member of Parliament for North Tongu, Okudjeto Ablakwa says the Minister's response was not satisfactory. According to him, various issues raised by the minority were not addressed.

"…we were not voted to go into parliament to drink tea…there are still so many questions he has not answered. What is the finance minister hiding that instead of addressing the issue, he tends to insult us. I honestly think we can do away with the insults, it doesn't help anybody; we have all been elected by our constituents with the hope that we will uphold the constitution of Ghana…in the spirit of good governance and accountability…" he said during an interview on Peace FM morning show 'Kokrokoo' Thursday.

Speaking to the same issue on the same platform, Deputy Finance Minister, Kwaku Kwarteng debunked claims that his ministry is hiding information relevant to the public as being claimed by the Minority.
He does not understand why the Minority are not coming out to indicate exactly 'what is wrong', adding their (minority) manner of criticism shows 'they have not read'.

"The minority members; you could see clearly from the way they communicate that they have not read, they do not understand the transactions and the things that happen and they just keep saying all sorts of things that does not advance the public interest in anyway. Throughout this discussion, the minority is not telling us exactly what is wrong…we are never going to disclose people who have invested in government treasury. We have never done that in this country over the eight years of the NDC administration. No country have ever done it and we will not do it and that is what the Minister sought to explain…" he said.