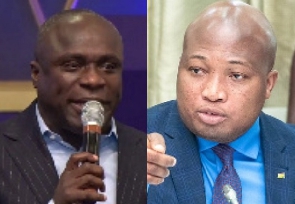 Member of Parliament for North Tongu, Samuel Okudzeto Ablakwa has responded to a threat to sue him for deliberate defamation.
The threat was contained in a January 16 press statement issued by Rev. Victor Kusi Boateng, secretary to the Board of Trustees of the National Cathedral, who has been at the center of a series of allegations made by the MP.

Speaking on Accra-based Radio Gold (January 18, 2023), the MP dared the clergyman to deal with him and stop issuing threats if he really believes he is innocent of the allegations he (Ablakwa) has made so far.

"How does he think parliamentary oversight works? We are doing our work and nobody will intimidate us," the MP submitted adding that he expected the man of God to deny using two official names, different dates of births, two tax numbers, professions, addresses and that he "is not having dual personality."

Ablakwa said he expected the statement to state categorically that he was lying about his allegations and not for the reverend to hide behind an enquiry by the Commission on Human Rights and Administrative Justice (CHRAJ).

"…deal with the specific issues. Than this business of trying to hide under CHRAJ, that after CHRAJ I will deal with the MP, what are you waiting for? Deal with me now.
"He should deal with me now, I didn't know he is such a coward, what is he waiting for, deal with me now! Damn coward. He rather is issuing threats because he knows he will not be arrested," Ablakwa stressed.

Among other allegations, Ablakwa has published 'irregular' payments from the National Cathedral accounts to a company closely associated with the clergyman. He also alleges that Rev. Kusi Boateng uses Kwabena Adu Gyamfi on some other official documents.

The Trustees of the Cathedral has formally rejected the allegations of irregular payment explaining that the accused only extended a loan to the board and was later paid a full refund without interest.

SARA/DO