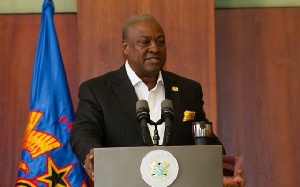 Director of Communications of the governing New Patriotic Party (NPP), Richard Ahiagbah, has asked for the position of former president John Dramani Mahama on the subject of same-sex relationships.
The issue has become topical in recent times with parliament's work on a bill on Lesbians, Gays, Bisexuals, Transgender, Queer, LGBTQ+, which Bill is set to be debated on the floor today.

A question by a New York Times journalist on the issue during the visit of American Vice President Kamala Harris has also added impetus to the issue following responses by Harris and president Nana Addo Dankwa Akufo-Addo.

Ahiagbah via a tweet dated March 30 asked: "What is H.E John Dramani Mahama's position on the evolving LGBTQ+ debate? What is it?"

Responding to a question at Jubilee House, in Accra, on Monday, March 27, Kamala Harris said that for her, the LGBTQ+ issue was one that bordered on human rights.

She added that every person has the right to live as s/he wants.
"Let me be clear about where we stand. First of all, for the American press who are here, you know that a great deal of work in my career has been to address human rights issues, equality issues across the board including those related to the LGBT community.

"And I feel very strongly about the importance of supporting the freedom and supporting and fighting for equality among all people and that all people be treated equally.

"I will also say that this is an issue that we consider and I consider to be a human rights issue and that will not change," she stressed.

President Akufo-Addo also had a bite at the subject during their joint press conference at the presidency. He spoke to the current anti-LGBTQ law before parliament and assured that government had through the Attorney General made significant input into the legislation.

He said that the anti-LGBT bill, which was championed by "only a hand full of MPs", is currently being considered by Parliament.
Akufo-Addo added that even if the bill is passed, it will still have to be ratified by him.

The two leaders made these remarks while addressing the press after having bilateral talks at the Jubilee House as part of Kamala Harris's 3-day visit to Ghana.


What is H.E John Dramani Mahama's position on the evolving LGBTQ+ debate? What is it?

— Richard Ahiagbah Official (@RAahiagbah) March 30, 2023
Watch the remarks of the two leaders in the video below:
You can also watch this episode of People & Places here:



SARA