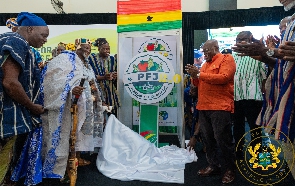 The members of the Minority in Parliament on the Committee on Food, Agriculture and Cocoa Affairs have raised questions about the feasibility of phase two of the government's Planting for Food and Jobs policy recently launched by President Nana Addo Dankwa Akufo-Addo.
According to the Minority, it finds nothing substantially new with the new phase of the project in comparison with the first, which has been described as an avenue that was used to loot state resources.

"The PFJ phase is substantially not different from the PFJ this government has implemented since 2017, in fact, this new program will impoverish the smallholder farmer in a worse form as his faith will be determined by market forces.

"Government has no priority crops it's prepared to commit finances on to 7 reduce our import bill and achieve food sufficiency in the short to medium term. The whole production season for 2023 has been wasted and farmers have planted crops at full market price for their inputs," the caucus said.

While raising concerns about the cost of the project and the source of funding among other questions, the Minority said PFJ Phase 2 as outlined by the government will rather lead to higher food prices by the end of the year.

"Expect higher food prices by close of year 2023 as farmers recover their full input cost. The language of the launched PFJ 2 document is flowery and highly theoretical. No clear realist implementation pathways and milestones are communicated.
"We conclude that PFJ has failed to deliver food and nutritional security for the people of Ghana and the new minister must be seen to be doing something new," the statement read by the Deputy Ranking Member of the Committee on Food, Agriculture and Cocoa Affairs, Godfred Seidu Jasaw, said.

Speaking at the launch of PFJ Phase 2 in Tamale, President Nana Addo Dankwa Akufo-Addo said that by design, the project "takes a holistic view and places greater emphasis on value chain approaches by focusing on strengthening linkages between actors along eleven selected agricultural commodity value chains broadly categorised into grains, roots and tuber, vegetables and poultry."

Phase II of the programme, the president added, also seeks to improve service delivery to maximise impact and substitutes direct input subsidy with smart agricultural financial support in the form of comprehensive input credit, with provision for in-kind payment.

He explained that key elements of the new phase would also include an input credit system that would provide farmers with access to inputs such as seeds, fertilisers and pesticides, and other support services to improve productivity, as well as, storage infrastructure and distribution of produce to reduce post-harvest losses.

Read the full statement below:


Click here to start the nomination process for the 2023 GhanaWeb Excellence Awards

Ghana's leading digital news platform, GhanaWeb, in conjunction with the Korle-Bu Teaching Hospital, is embarking on an aggressive campaign which is geared towards ensuring that parliament passes comprehensive legislation to guide organ harvesting, organ donation, and organ transplantation in the country.

Watch Mintah Akandoh's call for legislation on organ transplantation on The Lowdown:




Watch the launch of the 2023 GhanaWeb Excellence Awards on GhanaWeb TV below:





Share your news stories and ideas with GhanaWeb


To advertise with GhanaWeb