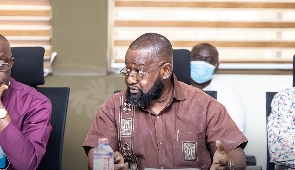 A private legal practitioner, Kwame Jantuah, has thrown a question to enquire about the originality of the policies by President Nana Addo Dankwa Akufo-Addo and his government in tackling the challenges of the economy.
According to him, the government has only resorted to borrowing from the international market to support the economy rather than fixing it.

He said this while on TV3's New Day, which was monitored by GhanaWeb.

According to him, the restructuring policies contained in the IMF policy documents were factors that could have been corrected shortly after the government took over from the erstwhile government.

"What is the originality of President Akufo-Addo? What has he said that is original from him that hasn't happened before? When he decided to take us to the IMF, did he not consider some of these things? When you read the IMF document, it is sad reading because a lot of the things in this document they should have done when they came in," he said.
The lawyer continued to explain that rather than focusing on addressing the root weakness of the economy that forced past governments to go to the IMF, they used borrowing from the bond market to cover the inadequacies in the economy.

"In 2017, we were under an IMF deal. The first thing the finance minister should have said is, we've been to the IMF often. What is the weakness in our economy that allows us to always go to the IMF and deal with it? But he didn't. Rather he waited for us to come off the IMF deal they had extended, and anytime we started the new year, we went to the bond market to cover the inadequacies of the cedis. So, what work has he done, and what is original about what President Akuffo-Addo says," he added.

Lawyer Jantuah's comments were on the back of the President's pronouncement that the country would prepare to return to the bond market to get some more loans to complete some projects it has started.

NW/OGB