What kind of childish statement is this? – NPP MP slams Ambulance Service over vehicle found in Dubai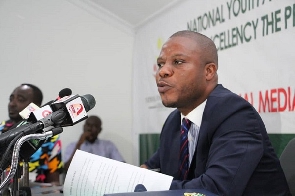 The Member of Parliament for Bortianor-Ngleshie-Amanfro, Sylvester Matthew Tetteh, has slammed the Ghana National Ambulance Service (GNAS) over the statement it issued regarding its vehicle that was found in a car dealership in Dubai, United Arab Emirates (UAE).
Speaking during a panel discussion on Metro TV's Good Morning Ghana programme, on Tuesday, May 30, 2023, the MP said that the explanation given by the Ambulance Service did not make sense because their vehicle was found at a known dealership in Dubai.

He added that the claim that the Ambulance Service vehicle was found at the warehouse of the manufacturers of the vehicle, is a total lie.

"People like this people, they make work very difficult. What does he (the person who issued the statement) think, that he is speaking to his children? Who signed that letter?

"… you have ordered a brand-new vehicle to be shipped to you and they have taken the branded vehicle and they have exposed it to the world, in an open garage market. The place (the vehicle was found) is called Sharjah, in Dubai who doesn't know that place? Who are the manufacturers and is that their warehouse?

"Every brand new car is kept in a warehouse… What kind of childish statement is this and this person is paid at the end of the month and I will come and sit here and defend some government," he said.
He called on the government to fire the persons who issued the statement.

Background:

The Ghana National Ambulance Service (GNAS) denied allegations that some of its vehicles are being sold in Dubai, United Arab Emirates (UAE) after a video of one of its vehicles in the country went viral.

According to the service, the GNAS-branded vehicle, captured in the video, is part of 26 new vehicles procured by the government through a World Bank facility.

In a statement issued on Monday, May 29, 2023, which was sighted by GhanaWeb, the GNAS added that the video was shot at the company manufacturing the vehicles.
"The manufacturing processes are over and very soon the ambulances will be shipped into Ghana," the GNAS added.

In the video, the said ambulance can be seen in a car dealership with several vehicles of different brands.

It had the logo of the Ghana Ambulance Service, and the Coat of Arms of Ghana branded on it.

It also had the inscription "Radiology Specialist Ambulance, Minister of Health, Funded by World Bank on it.

Two Ghanaians living in Dubai recorded the video, who indicated that the car was being sold.
Watch the MPs interview plus video of the GNAS vehicle in Dubai in the videos below:


These people make our work difficult. This person will be paid at the end of the month but I'll come and sit here in defense of gov't - @SylvesterTethe1 vexes over Ghanaian ambulance in Dubai saga#GoodMorningGhana #MetroTV pic.twitter.com/PHv90kZiEE

— Metro TV Ghana (@metrotvgh) May 30, 2023
You can also watch the latest episode of People & Places on GhanaWeb TV:


IB/WA