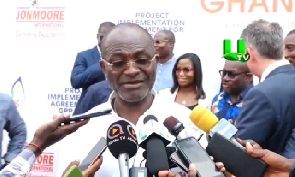 Assin Central Member of Parliament had cause to 'discipline' a man who interrupted him during an interview at a recent Ghana National Gas Company (GNGC) programme.
Kennedy Agyapong who currently serves at the Board Chairman of the company was granting an interview to the media at the signing of a project implementation agreement to establish a second gas processing plant when the young man butted into the interview.

Agyapong, who was responding to a question, all but scolded the man, before returning to continue the interview.

Their brief interaction from a UTV Ghana video is as follows:

Kennedy Agyapong: Again, with regards to this programme, you can see that…

Man: Hello, thank you, we have to continue
Kennedy Agyapong: Hei, when I am talking you say thank you, what nerves do you have? Please ....

Man: Respectfully, I am sorry.

Kennedy Agyapong: Ah, he has distorted (my thoughts) at least if you listen to one of the speakers, the operations director who said they can take about 1,500 people, currently they have 750 people.

Watch the video below:


Lol this man???????? pic.twitter.com/uIpxHwfwUz

— SIKAOFFICIAL???? (@SIKAOFFICIAL1) February 3, 2023
The US$700 gas plant would be sited at Atuabo in the Ellembele District of the Western Region and is expected to be completed within 24 months.

It would generate 1,500 direct and indirect jobs within the Atuabo power enclave.

At the signing ceremony in Accra, Dr Benjamin K. D. Asante, the Chief Executive Officer (CEO) of the GNGC, initialed for the Ghana Gas while Dr Hilton John Mitchell, a representative of the Consortium, comprising the Integrated Logistics Bureau Limited, Jonmoore International, Phoenix Park Limited and African Finance Corporation, signed for the rest of the partners.

Speaking at the signing ceremony, Mr Kennedy Ohene Agyapong, the Board Chairman of Ghana Gas, said the project, upon completion, would enhance the operations of the GNGC and further boost the utilisation of the country's gas resources for the Government's industrialisation agenda.

Mr Agyapong, also Member of Parliament for Assin Central, said the facility would play a critical role to help Ghana achieve her energy transition objectives of using renewable energy sources for industrial purposes and reduce the global carbon emissions.
The construction of a second train gas processing plant with a nominal capacity of 150 million standard cubic feet per day (MMscfd), expandable to 300 MMscfd, to process incremental raw gas volumes from the Greater Jubilee and TEN fields.

With additional files from GNA

SARA